The New Palladini Tarot Deck Review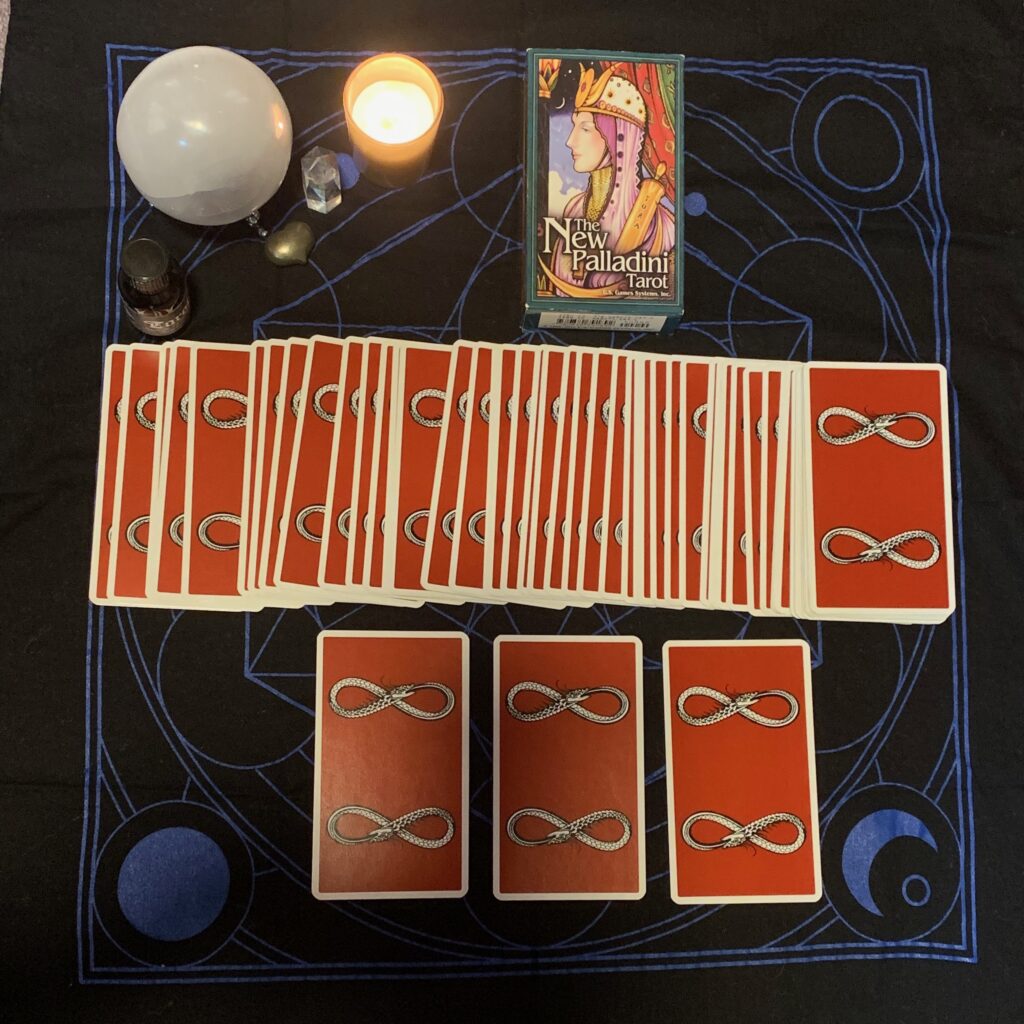 Maybe it's because they're the decks I was brought up on in my tarot reading journey, but I have a huge soft spot for decks from the 1970s-1990s. One of my underrated favorites from this time is The New Palladini Tarot. This deck, from the creator of the iconic Aquarian Tarot, became an instant classic when it was first published back in 1997, and for good reason.
The New Palladini Tarot features vibrant imagery. I absolutely love the use of color that artist David Palladini employed when creating this deck. While this deck is based on the RWS system, much of the original symbolism from the original Rider-Waite-Smith deck has been pared back. This deck is suitable for a beginner reader, however, due to much of the classic symbolism mentioned in most tarot books not being included, I think this deck would be better suited as a student's second tarot deck than as their first.
The publisher describes this deck as, "A tool for introspection and a mirror for one's development, this beautiful and original 78-card tarot deck by David Palladini encompasses many artistic styles and diverse images." I think it is important to note that although this deck is diverse by the standards of the 1990s, I would not describe this as a diverse deck today. The artist used elements of Egyptian, medieval, illumination, and modern art styles when creating this deck, and although inspiration was drawn from multiple art styles, the deck feels very cohesive visually and provides a smooth read. The artist's intent for the deck is that it be used as a tool for personal development and introspection and I have found this to be an effective deck to use for those purposes. I have also used this deck in readings for friends and clients and it has always delivered solid guidance.
To give you a better idea of how this deck performs in a reading, I am including photographs of actual readings I have done.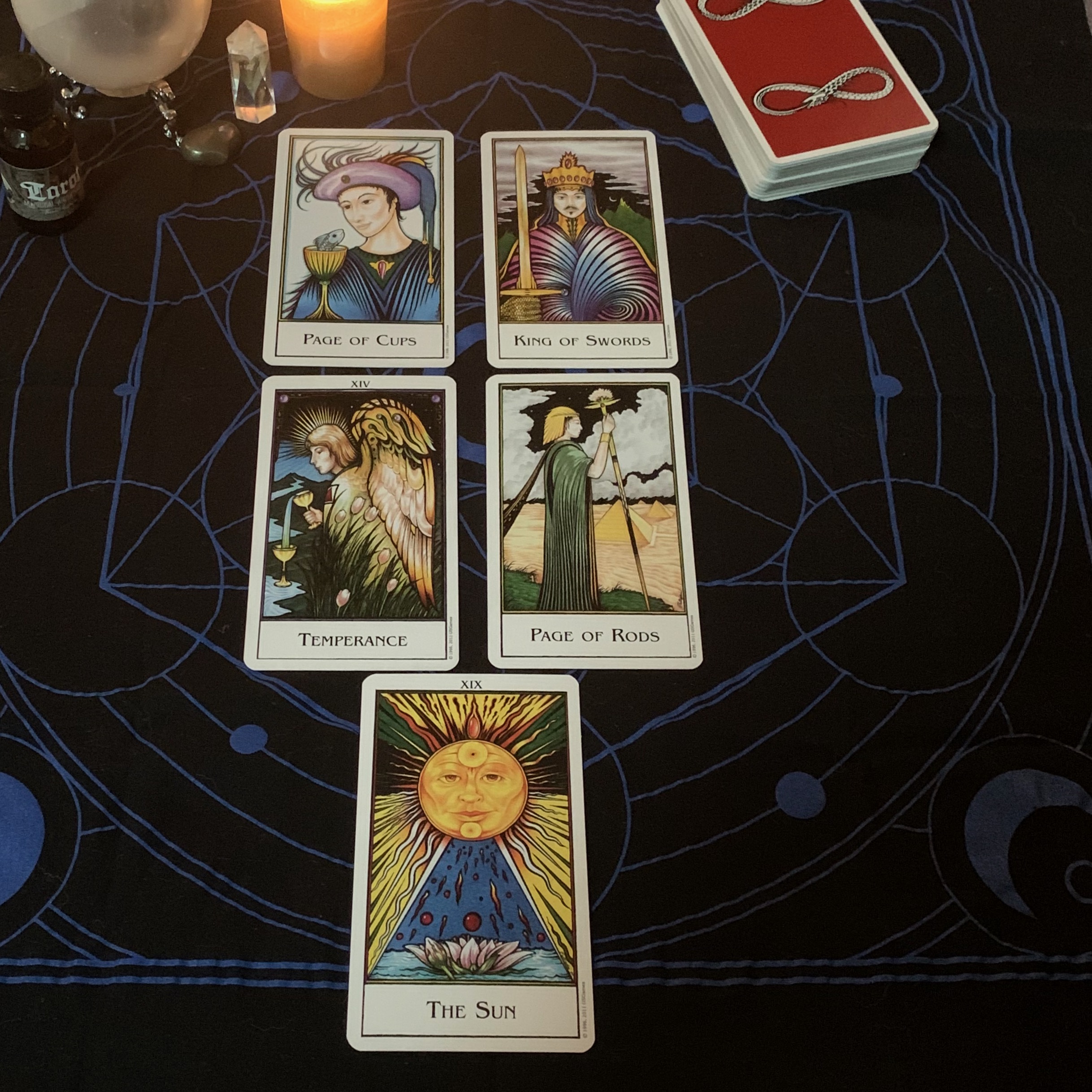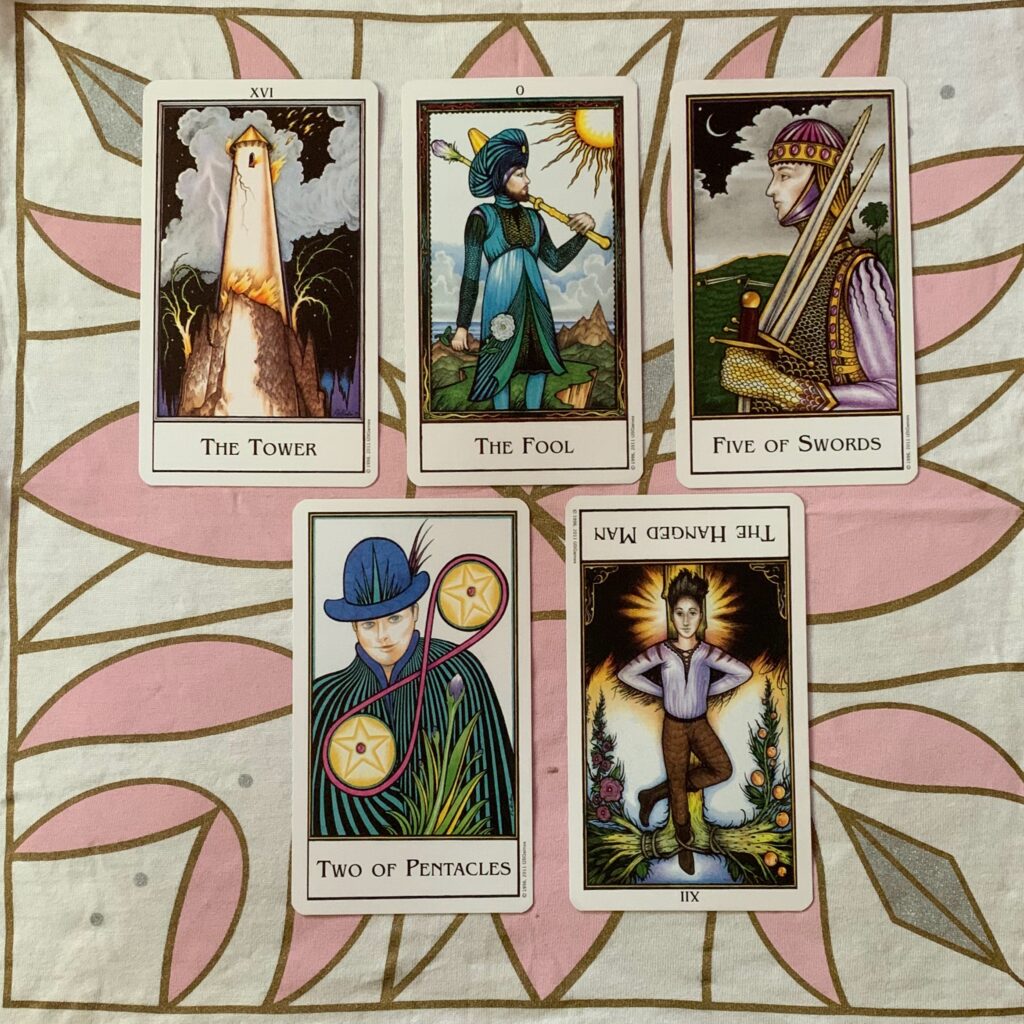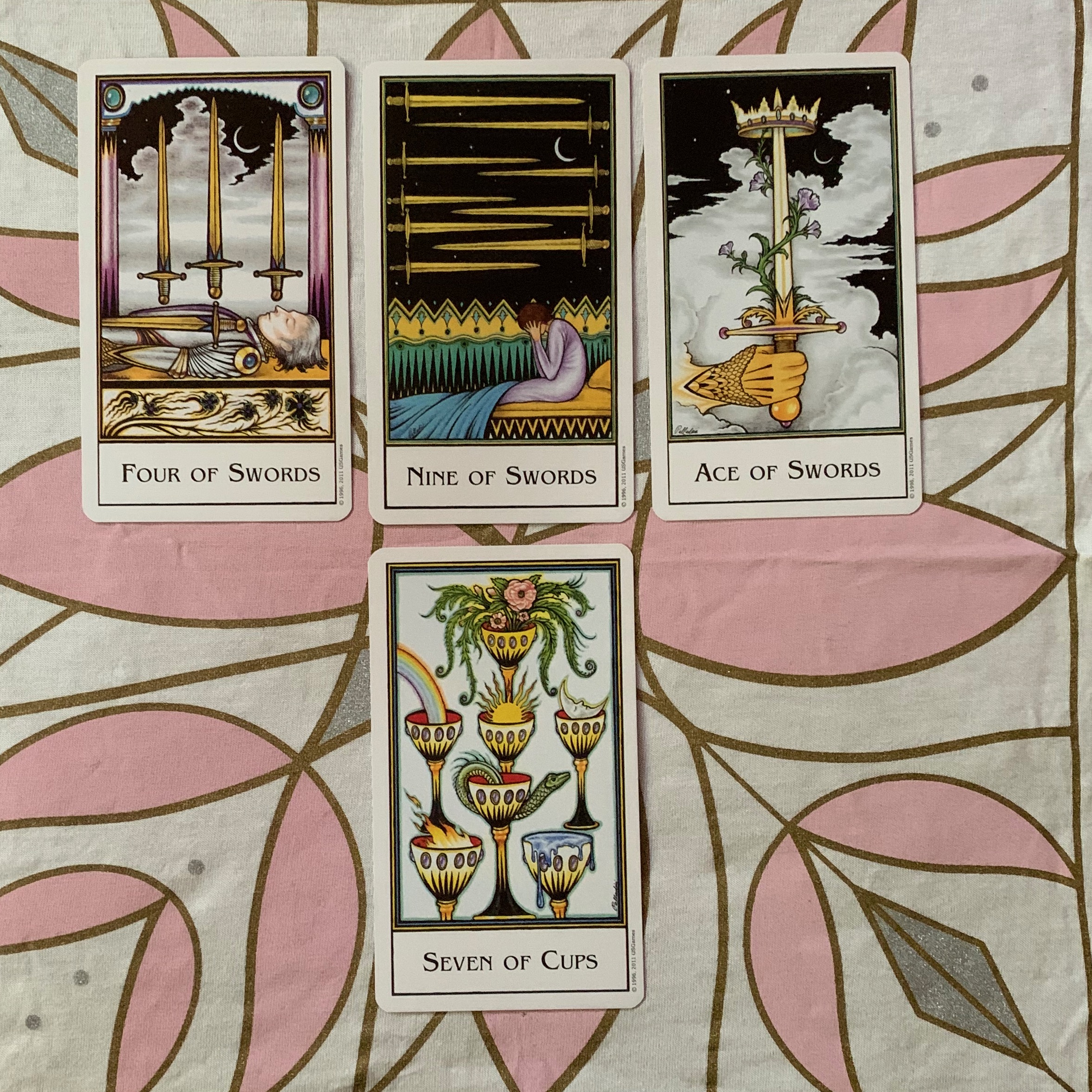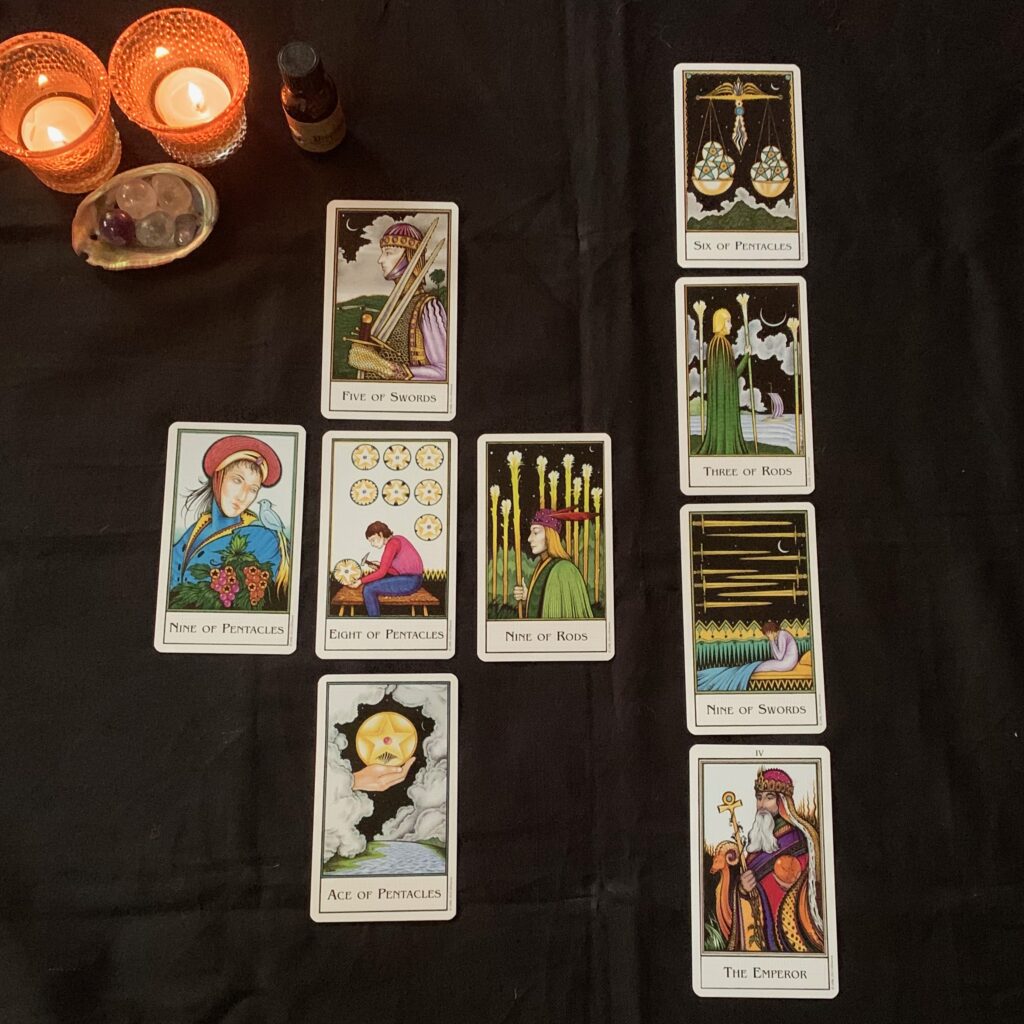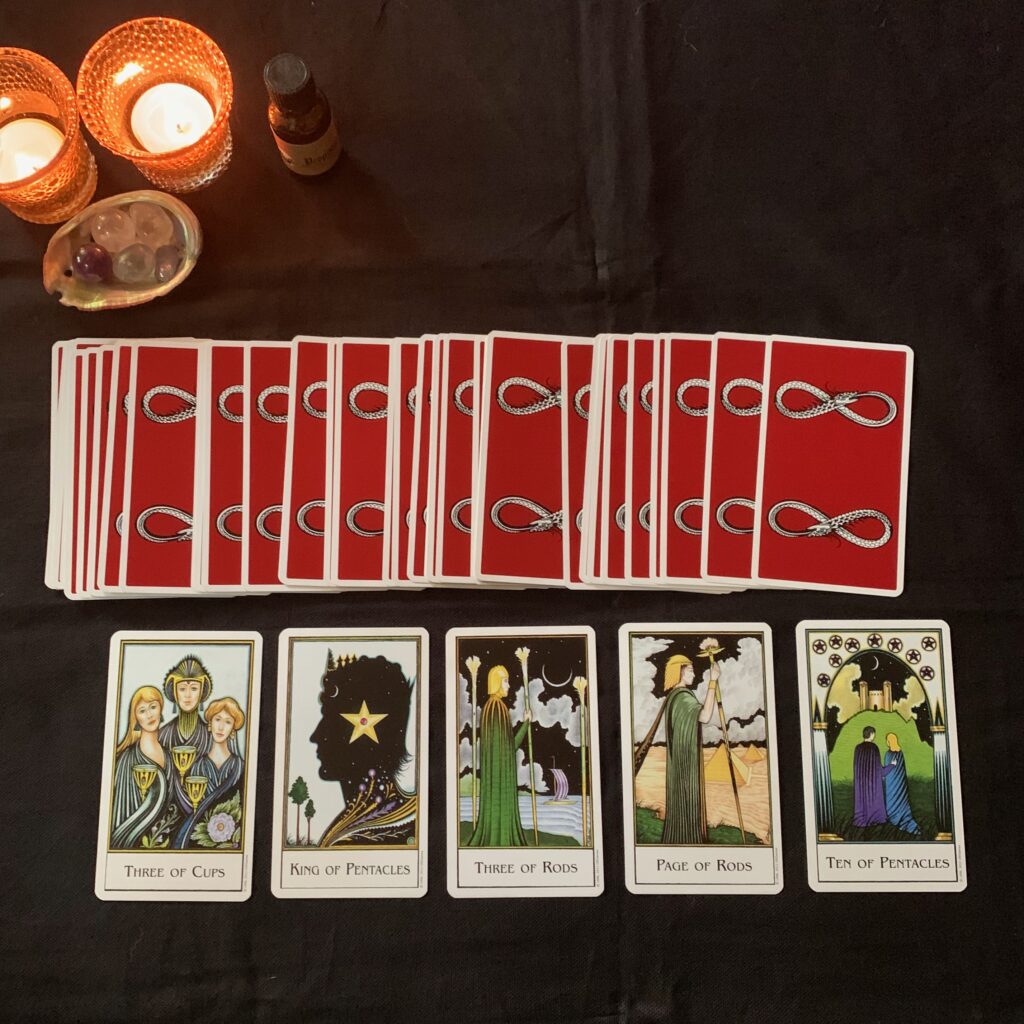 As you can see from the above photos, this artwork in this deck is beautiful and looks visually appealing on the cards when laid out for a reading.
While this deck is fully illustrated, much of the imagery in the minor arcana especially, has been paired back to just the bare minimum. I have included some examples of that in the photograph below.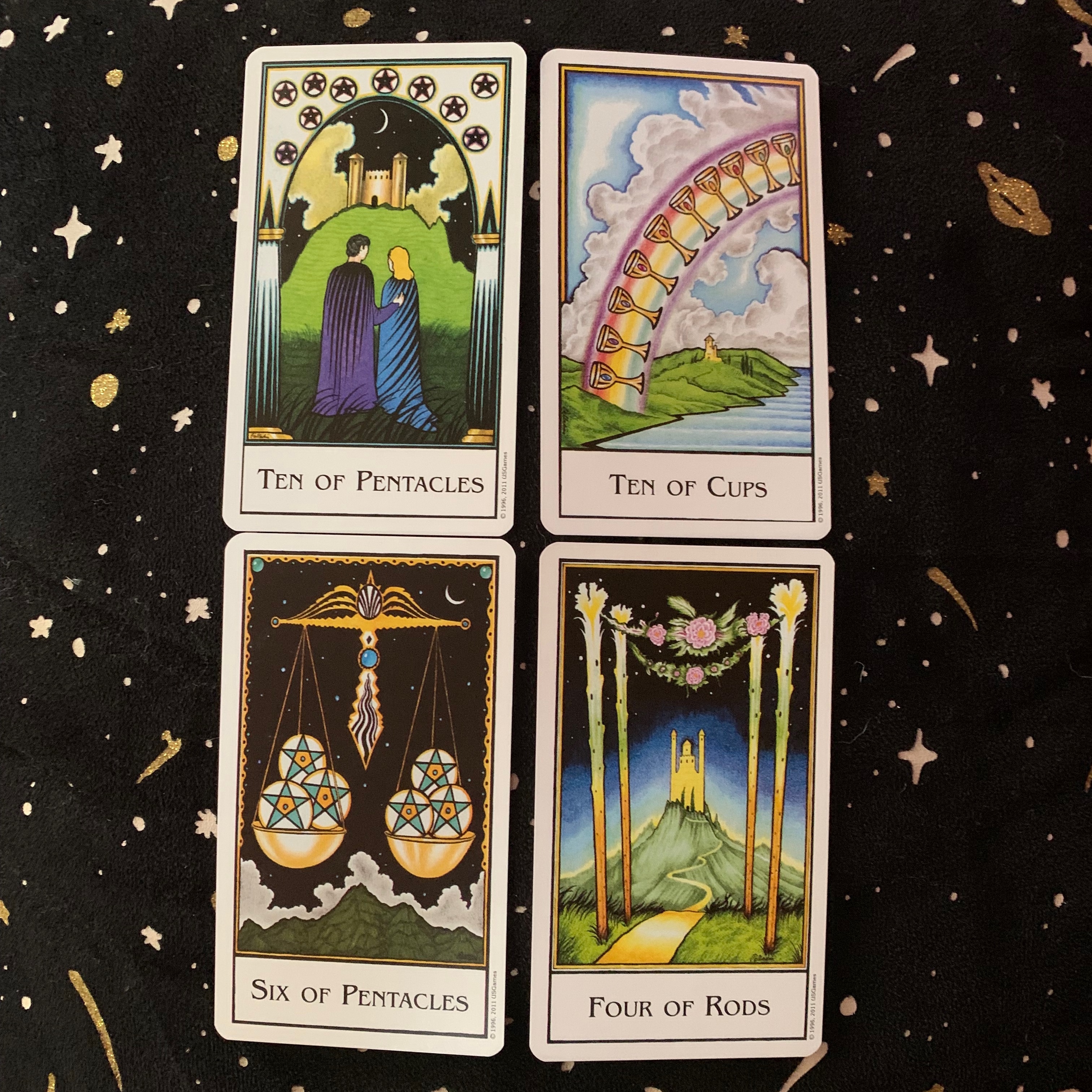 Whenever I am looking into a tarot deck, I always want to see the aces. As they are the foundation for the minor arcana I usually find that if the aces fall flat, the rest of the deck does too. In this area, The New Palladini Tarot does not disappoint. The aces in this deck are stunning, and among my favorite cards in the deck.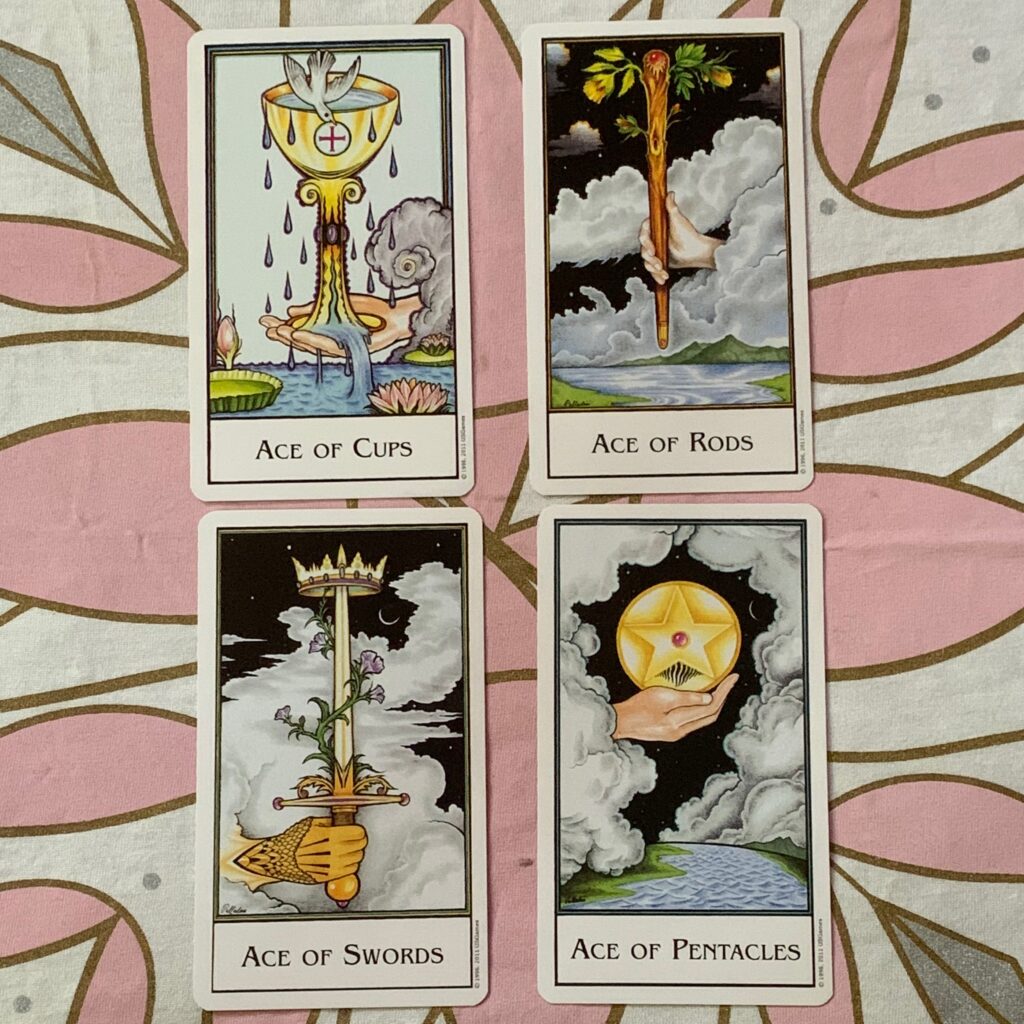 One characteristic of this deck I find interesting is that most of the people in the deck are featured from the chest up – particularly the court cards. This is in contrast to the full-body images we are used to seeing in a Rider-Waite-Smith-style deck. Although having the characters in this deck portrayed in this way may be off-putting to some, I quite enjoy working with these portrait-style images.
As this deck is based on the RWS system, it can be used with any tarot book that references that system. This is good news as this deck is packaged by US Games Systems in a basic tuck box with a small little white book. Keep in mind that due to the minimalist nature of the symbolism in this deck, you are likely to find that symbols mentioned in your reference book will not appear in this deck. This gives us the opportunity to compare and contrast, perhaps discovering nuances in the card meanings that have previously gone unnoticed. Card names in this deck are a match to that of the original RWS deck, although the suit of wands is called rods, and the Judgement card is called The Last Judgement in this deck.
Beyond the aces, my two favorite cards in the deck are Strength and The Star. Just look at how gorgeous these two cards are, particularly the Strength card.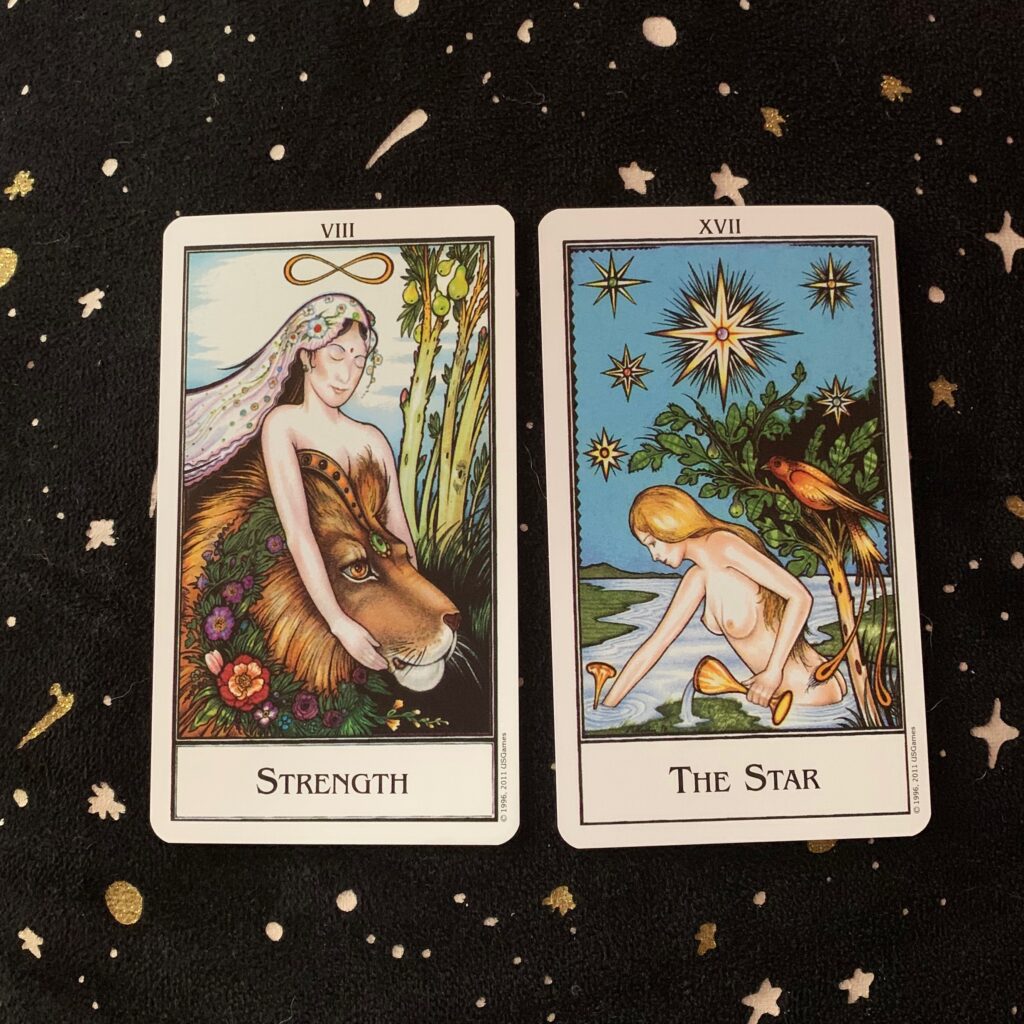 My two least favorite cards in this deck are The Sun and The Moon. This is only because I am not a fan of artwork where there is a face incorporated into a sun or moon design. Totally just a personal preference thing.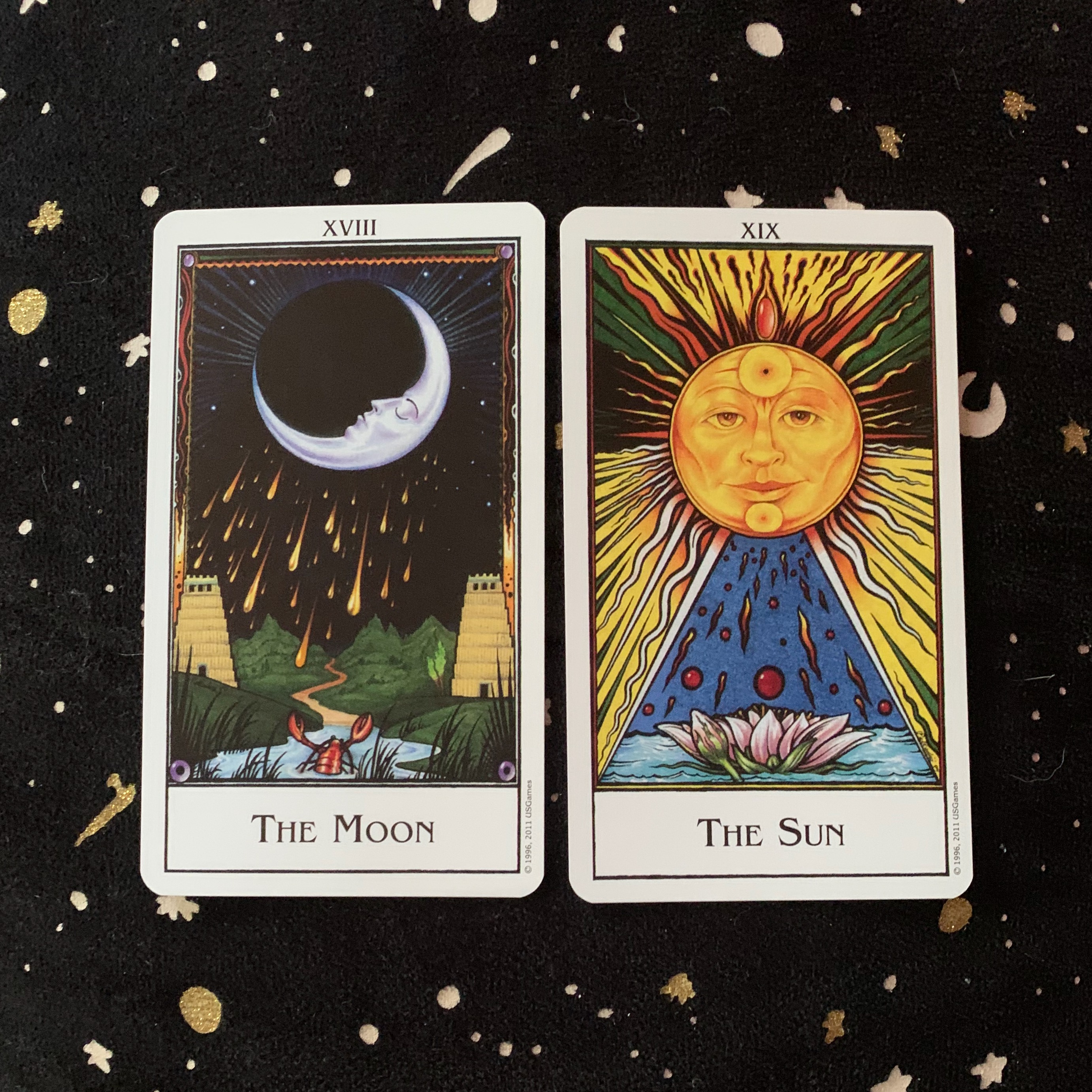 Overall, I find working with this deck to be quite enjoyable. I frequently use it as a self-reflection tool for myself. When working with clients I have received a lot of positive feedback and found that clients find the art style of the cards to be quite compelling. I recommend this deck wholeheartedly to anyone looking to add a new classic tarot deck to their collection. The cardstock is thin yet durable and matches in quality with what I have come to expect from a deck published by US Games Systems. The cards shuffle nicely and while the packaging is basic, the deck itself is very affordable. As a deck collector, the large deluxe deck + book sets that come in fancy boxes with metallic closures are beautiful but they take up so much space that I have come to appreciate the decks that come in an unassuming tuck box like this one does. It's really about the cards more than the packaging and I definitely prefer the price of decks that come in a tuck box! This deck is widely available in bookshops and metaphysical shops, or you can CLICK HERE to order your copy today!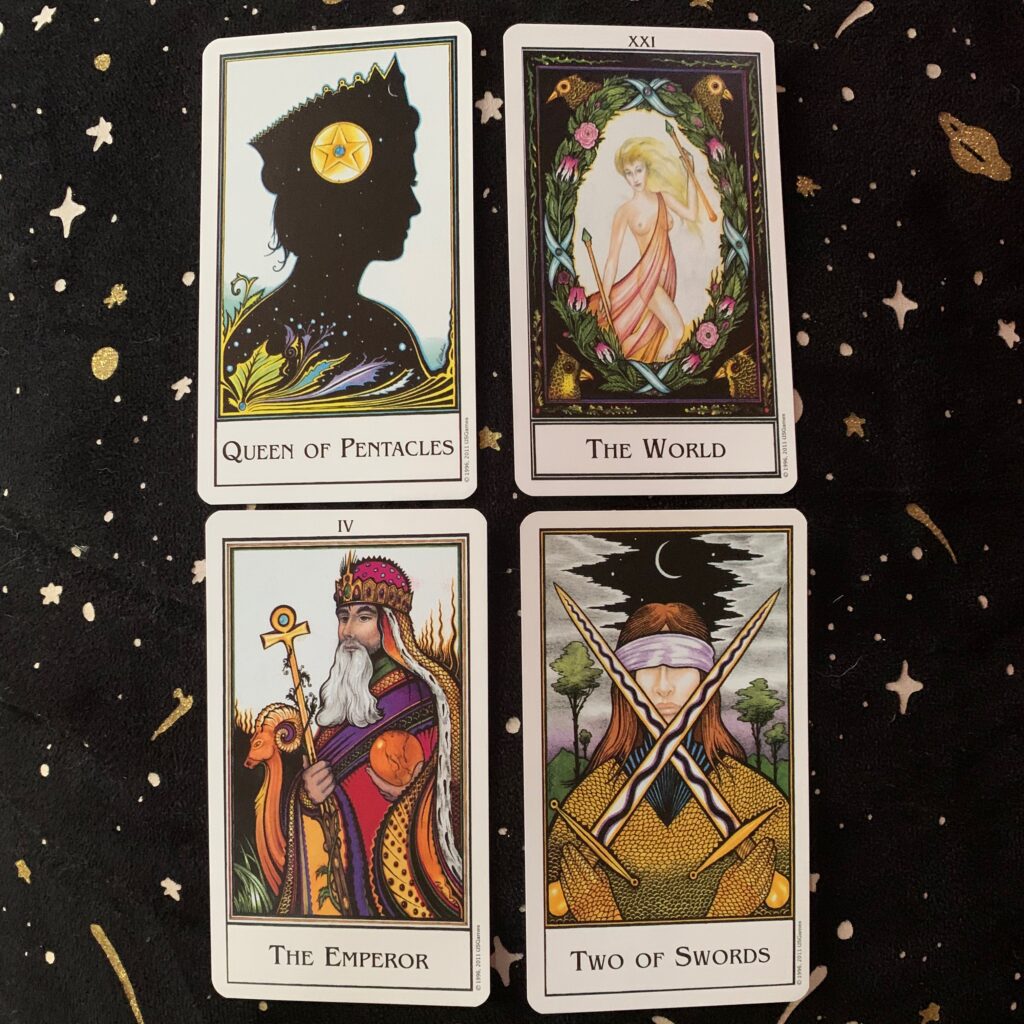 I am an Amazon affiliate. Links in this article are affiliate links. I earn a small commission from purchases made through these links.